Several factors have an impact on garage door cost, and custom design is by far the biggest. Many of us want our homes to look unique and have character. Custom garage door solutions can make your residence stand out and even help you resolve some practical issues.
Obviously, the custom garage door cost is not the same as the prices for basic models. So, whether you strive for some degree of personalization for your property or simply seek a door to match a non-standard door opening, we'll introduce you to the world of custom garage door prices and designs.
What Are Custom Garage Doors?
24/7 Emergency
Garage Door Service
When checking product lists of garage door suppliers and manufacturers, initially, you'll find typical pre-designed models coming in standard sizes, shapes, configurations, materials, and colors. Yet, you might want something different to match your style vision and feature some specific elements. This is where custom garage doors come into play.
Apart from achieving desired curb appeal and amping up your home exterior, a garage door designed to meet your individual preferences can help resolve structural issues such as fitting specific dimensions, multi-tier buildings, angled entrances, etc.
Which Elements of a Garage Door Could Be Customized?
Given the number of garage door conventional designs and configurations available on the modern market, when choosing an entrance gate to your garage, you should take into account:
Your primary needs and considerations, including quality, servicing, and maintenance requirements;
The climate you live in since the door will be exposed to environmental impacts;
Overall aesthetics for the door to seamlessly mix with your house style;
Pricing to match your budget.
Along with standard design versions, manufacturers usually come up with multiple customization options, allowing you to realize your boldest creative ideas and trickiest building endeavors.
How much does a custom garage door cost? The price for a custom garage door will depend upon the number and type of customization elements and features you choose.  Let's consider the main custom garage door cost factors so that you can see available options and better understand the pricing.
Door Size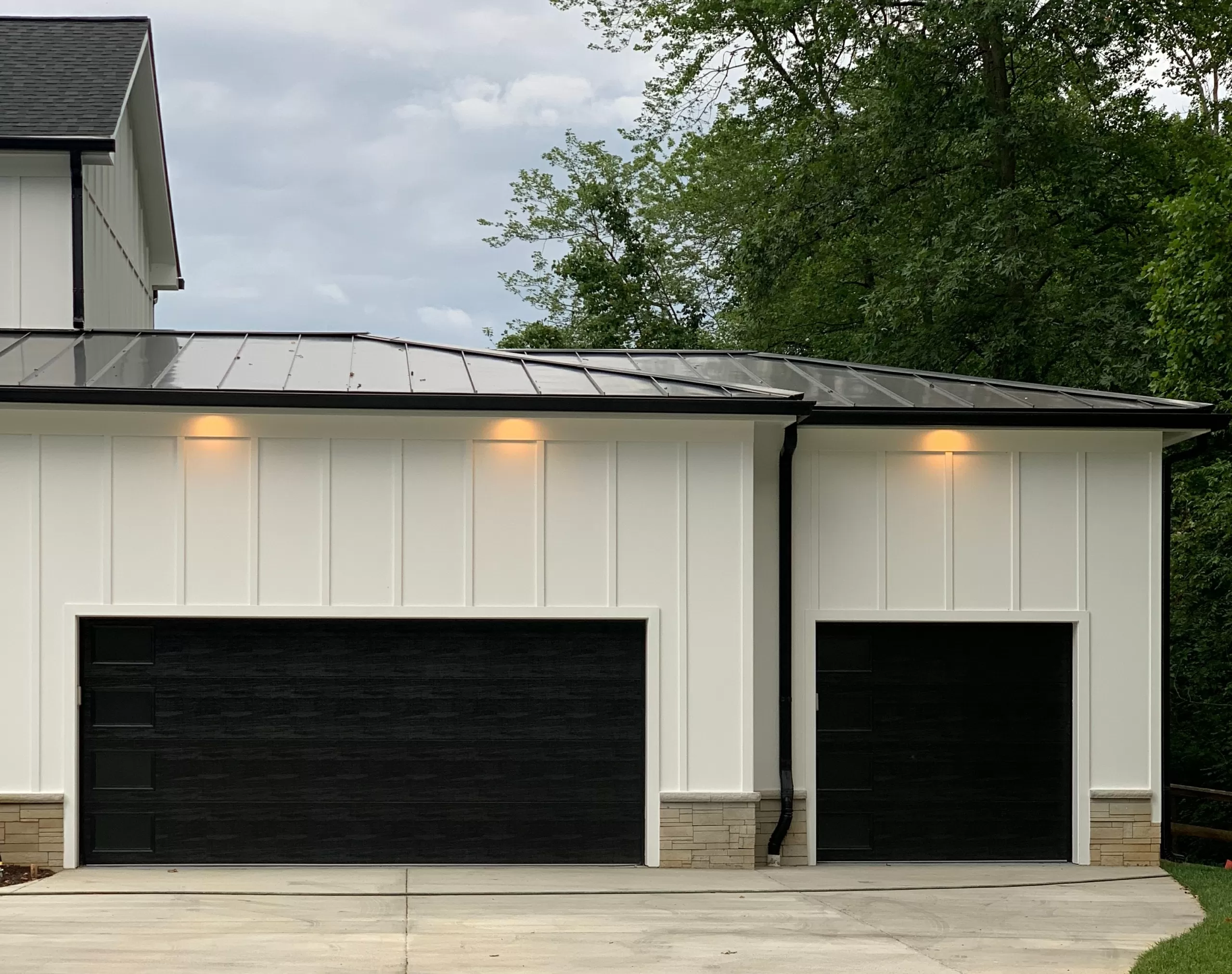 The first aspect you'll pay attention to when choosing a door for your garage is the door opening dimensions to select the right door size. For the sake of convenience and uniformity, the door sizes are standardized. The two most common sizes are
Single-car door (8'x7'): $600–$1,500
Dual-car door (16'x7'): $800–$3,500
Custom door: $1,200–$10,000+
The price overlap is much dependent on the material your door will be made of and the number of doors you need.
Door Type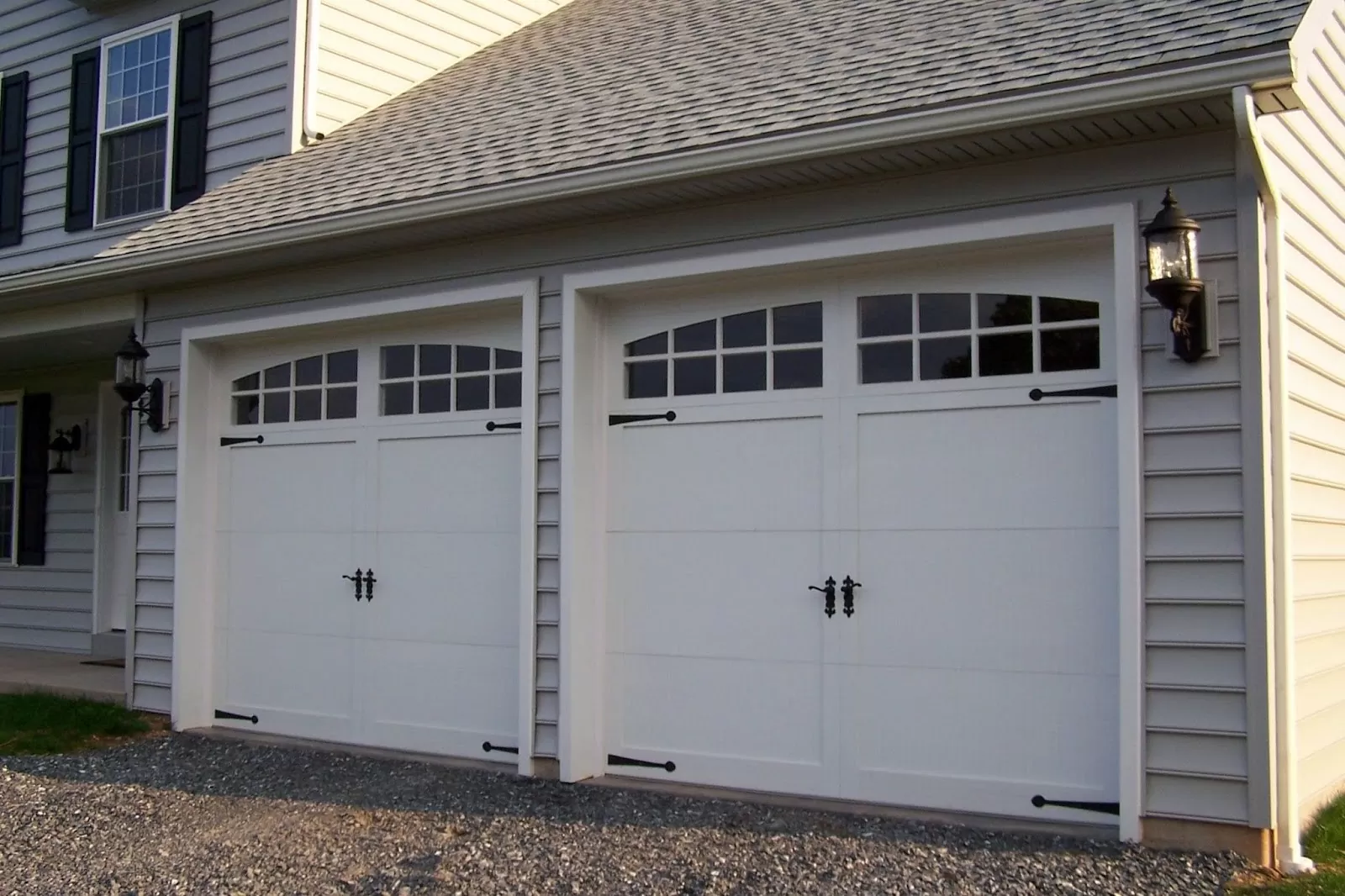 Garage doors vary by the way they open and close. The most widely used door type or style you'll come across is a traditional roll-up door which is by far the most affordable. Notably, one of the main factors of how much it will cost to install a custom garage door is the door type.
Sectional: $700–$3,000
Swing-up/Tilt-up: $400–$800
Swing-out: from $1,000
Roll-up: $650
Material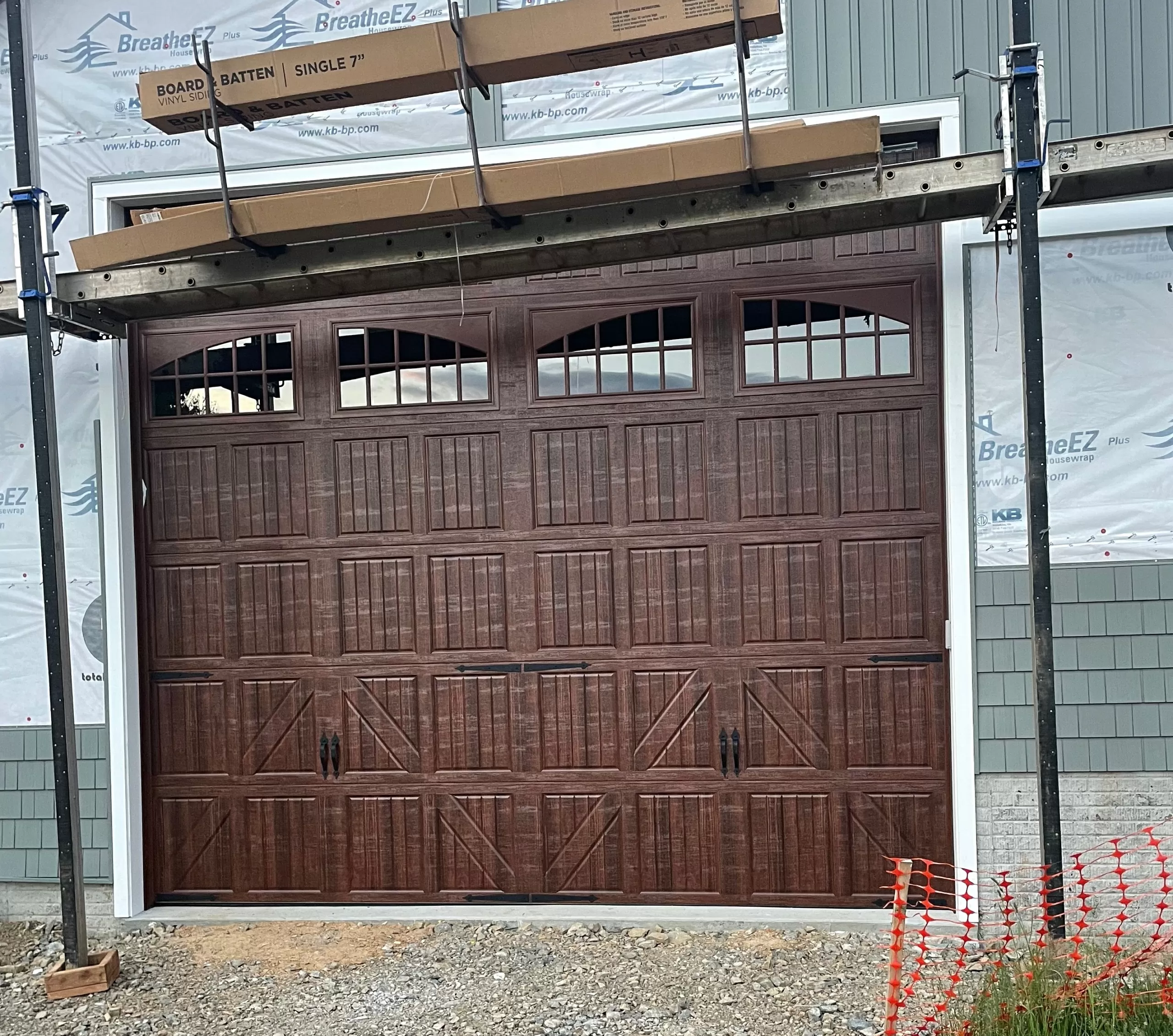 There is a wide range of materials modern garage doors can be made of. Some are less pricey and more practical, while others are more expensive and call for special maintenance. Chasing for sass and stylish vibes, don't forget to consider the climate in your area and the additional servicing costs you might face. Below are the most popular garage door materials and average custom garage doors prices for a standard 8'x7' for reference.
Metal: Steel doors ($450–$1,500) are durable and dependable yet are not the best option for humid environments. Aluminum doors ($500–$2,000) are rust-resistant and offer better insulation;
Vinyl or Fiberglass: These are perfect low-maintenance materials ($800-$2,000) available in multiple colors and textures. Yet, they are prone to damage under extreme temperatures;
Glass: Combined with a heavy metal or elegant,  wooden frame, a glass door will add style and chic to contemporary house designs. The pricing starts at $800 and goes higher since this type of door will need heavy-duty hardware;
Wood: The beauty of natural wood is hard to resist. However, a wooden door requires regular maintenance and is a pricey thing. Get ready to pay a lot as custom wood garage doors prices are far above $1,000;
Composite wood: It's a more affordable ($700–$1,600), weather-resistant, low-maintenance alternative for wood that offers the same appeal.
Custom Elements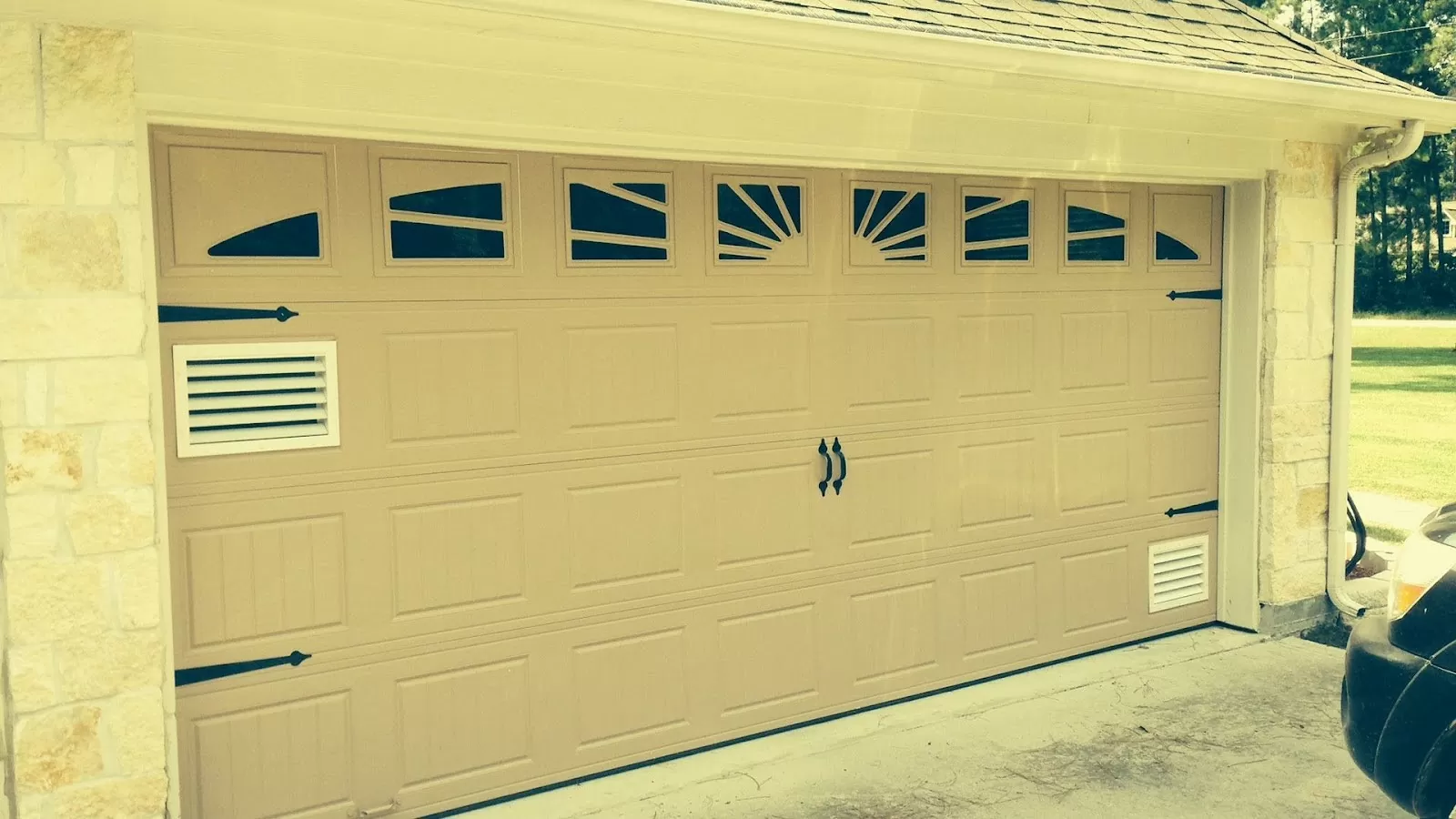 Minor elements that work as perfect customization tools when designing your garage door are:
Windows: There is a plethora of window styles, shapes, sizes, and even colors and textures. Though simple, this element can become a real game changer and make your garage door look totally different. It will add $300–$500 to the final doors price;
Walk-through door or wicket: It's an entrance gate built into your garage door that will enable you to enter the garage without opening the whole door, thus minimizing the main door mechanism's tear and wear. The garage door with a man door cost varies from $800 to $2600;
Garage door jamb: It's a trim piece that covers a solid door frame and can polish the whole door style when perfectly matched with the door and exterior house design. It could be made of various materials, and the price will range between $200 and $400 accordingly;
Decorative hardware: Smaller accessories such as handles, hinges, knockers, latches, and trimming details are an easy and affordable way to bring your door style to yet another level. And the prices are generally below $50.
Advantages of Custom Garage Doors
24/7 Emergency
Garage Door Service
Surely enough, the biggest benefit of a custom design is that you'll get the door you really want and not the one that simply fits. It will perfectly match your style cravings, ideally blend with your home exterior, and deliver the functionality you expect. Some other pluses to mention are:
Improved design: You are free to add the elements that will make it easier for you to use the door while ensuring better garage accessibility and security;
Energy savings: An insulated garage door will help you reduce your utility bills;
Added property value: A quality custom door will surely increase the overall cost of your property should you decide to sell it at some point.
Conclusion
A garage door is a crucial element to consider when renovating your house. It works for both your home's safety and style. And a properly designed custom garage door has it all. While it might be more expensive than a standard model, it offers many benefits that will pay off in the long run. Besides, with customization options, the sky is the limit, so you can get a truly unique piece that will match your needs.
Consider STI Garage Door as Your Trusted Partner
24/7 Emergency
Garage Door Service
Whether you need a reliable and reputed garage door installation service or are searching for an affordable and responsive garage door replacement service, you can't go wrong with STI Garage Door.
We will cater to the garage door installation, maintenance, and repair needs of homeowners in Maryland, Virginia, and Washington, D.C. We also have an emergency service on our list and an extensive menu of customization options. Feel free to contact us if you have any questions or just want to learn more about our garage door service.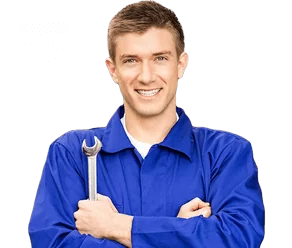 Spring Replacement
$25.00 off
Not valid with any other discounts offer!
Opener Repair
$15.00 off
Not valid with any other discounts offer!
New Garage Door
$100 off Single Door
$150 off Double Door
Not valid with any other discounts offer!
New Garage Door Opener
$50.00 off
Not valid with any other discounts offer!
Senior and Military
Extra 5% off
Not valid with any other discounts offer!
Tune-Up Special
$85.00 off
Not valid with any other discounts offer!
Show More +