The garage door is a piece of property that requires maintenance to work adequately. Such units come with multiple parts, some of which may need occasional replacements. Pusher springs and bumpers are a few such components. If you feel like your gates do not work as smoothly as they used to, maybe it's the right time to learn how to install garage door pusher springs.
Statistics show that injuries, caused by this piece of equipment, account for about 20,000 to 30,000 cases annually. The most frequent causes are door falls and pusher springs failing. It's absolutely crucial to be well-prepared before proceeding with DIY installations. Alternatively, you may consider looking for garage door spring replacement services and let professionals do the job.
What are Garage Door Spring Pushers and Bumpers for?
24/7 Emergency
Garage Door Service
Let's begin with finding out what pusher springs and bumpers actually are in the garage door system:
Pusher (helper) springs. They are located at the back of the horizontal tacks in the way they are pointing against the top section of the tracks. When the door is closing, pusher springs slowly release the tension, preventing the sudden jump.
Spring bumpers. Spring or leaf bumpers are mounted at the end of the horizontal/vertical door track. Bumpers are not movable; they keep doors from opening too far. It helps to keep the door's integrity in cases when owners like to open them quickly, most of the time.
The primary purpose of a spring pusher is to help maintain the proper cable tension through every closing cycle. The impact of spring pushers is well-noticeable in the case of the door, with the lack of downward-acting force. Bumpers primarily serve protection purposes.
If any of these parts are severely worn, you'll likely experience difficulty closing the gates smoothly. It may fall once of a sudden or move with some jerking. Such an indication should notify you about the need to replace pushers and bumpers.
Take a look at what bumpers and springs for residential garage doors may look like in the images below: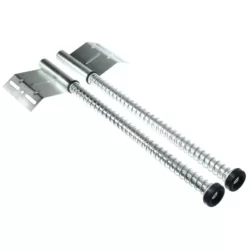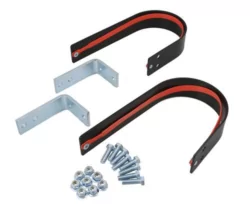 How to Perform Installation of Garage Door Push Down Springs
In case you intend to perform garage door pusher springs installation yourself, consider following these steps.
#1. Identify Pushers and Mount Them
Since pushers are sold in pairs for right and left side mounts, you need to identify which one is for what mount. Remember that brackets should be mounted outside the door tracks at an inward angle.
Then, use C-clamps or vise grips to mount the pushers as far on the track as you can. Ensure that the rubber ends face the door.
#2. Align the Rubber Stop End and Measure Compression
Raise the door to the completely open position, so the pushers' top end faces the door's top corners. Then, repeat the process on the opposite door side using length spacing. It may happen that the end of the tack would be in the correct position, so you may need to move the pushers further up. It will ensure that there is precisely the right amount of pusher compression.
#3. Drill the Holes and Fasten the Pusher
Once you found out the proper distance and alignment, mark the hole locations on the horizontal tracks. Drill 2 holes, or more, if the fasteners require you to. Then, fasten the pushers to the flat tacks using 3/8 in. bolts and nuts. Lubricate spring pushers using duck oil, and you're done with garage door spring bumpers installation.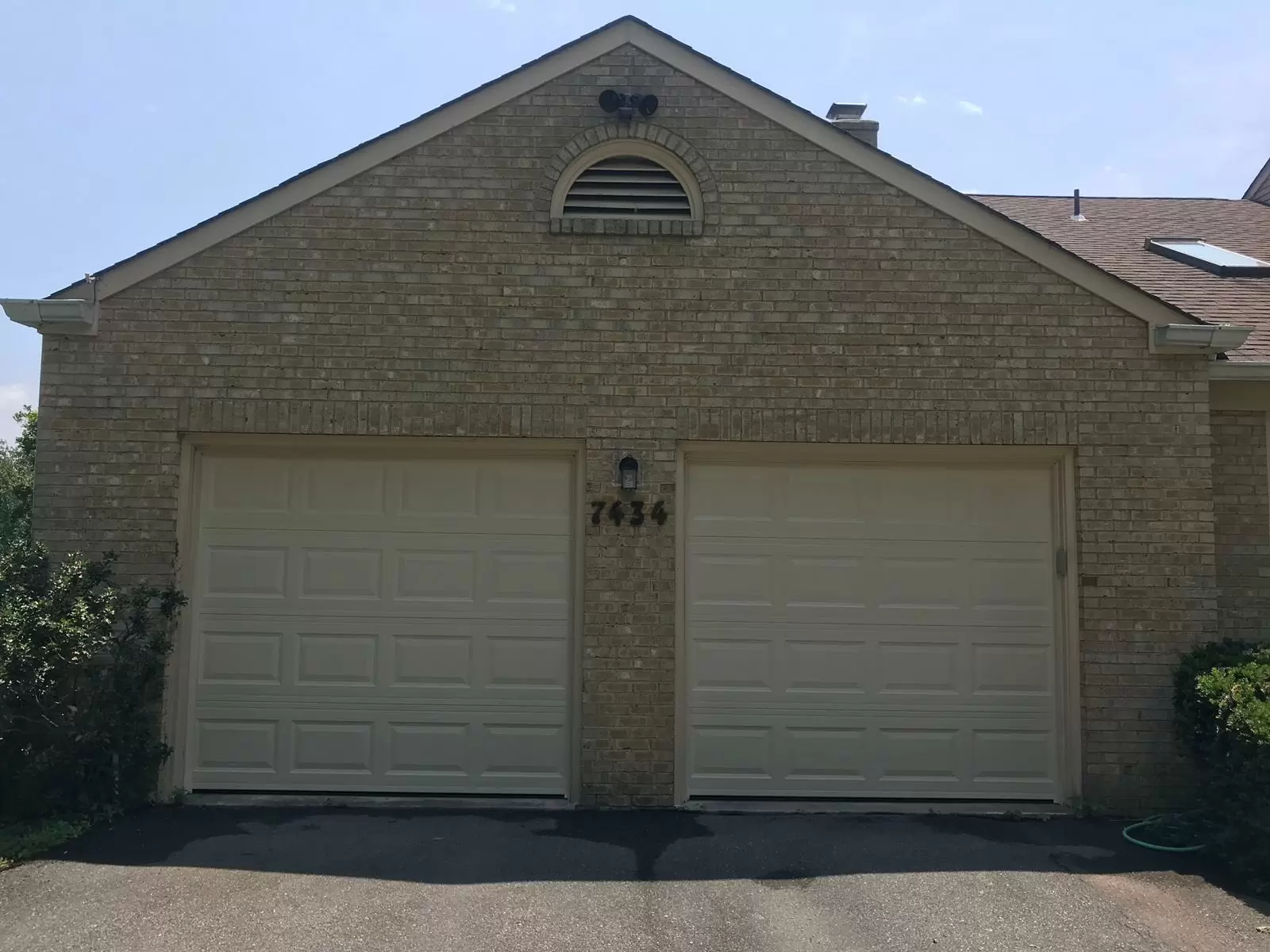 How to Choose Garage Door Pusher Springs
If you are not confident in your knowledge of how to select garage door springs, let's refresh it. The pusher springs have the following compression options: 30lb, 60lb, and 150lb. Their diameters are 9 in., 15 in., or 27 in.
The main idea is not to install a too strong pusher for your door. For residential doors, 2 in. pushers having 150lb force would cause excessive wear. Pushers should match the sizes of doors and openers.
Besides, side mount jackshaft openers are not designed for doors that lack downward force. Opt for them if you only have a whole vertical lift track, or you'll likely face issues with rapidly worn cables.
Consider STI Garage Door Your Trusted Partner
24/7 Emergency
Garage Door Service
STI Garage Door is a US-based provider of garage door and spring door opener services. We've been in the industry for years, constantly delivering excellent results to individual owners as well as small to large-sized companies.
From commercial to residential garage doors installation, and from custom projects to conventional replacements, you may rely on STI Garage Door on any matter. We partner with the market-best suppliers of doors and their parts only and have a professional team with market-leading experience.
If you are not interested in learning how to install garage door spring bumpers and doing the work yourself, consider contacting a reliable provider of these solutions.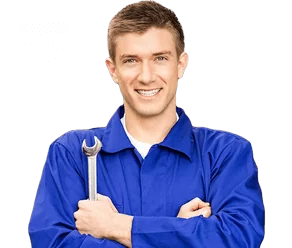 Spring Replacement
$25.00 off
Not valid with any other discounts offer!
Opener Repair
$15.00 off
Not valid with any other discounts offer!
New Garage Door
$100 off Single Door
$150 off Double Door
Not valid with any other discounts offer!
New Garage Door Opener
$50.00 off
Not valid with any other discounts offer!
Senior and Military
Extra 5% off
Not valid with any other discounts offer!
Tune-Up Special
$85.00 off
Not valid with any other discounts offer!
Show More +