The average lifespan of a garage door is 10–15 years. It is quite a strong and durable construction. But still, sooner or later, you will be faced with issues when the only solution will be replacing your door. How to understand that it is time to replace it? This can be indicated by signs such as frequent breakdowns, problems with opening and closing, strange loud noises when it is working, and more.
A new garage door will bring you a lot of benefits. You will be able to improve the look of your home, increase security, and in the long run, save money on energy bills and garage door maintenance. Choosing a specific design for your new garage door can add charm to your home. For example, consider installing a carriage-style door. With such a door, your home will surely stand out from your neighbors.
In this article, we will answer the question of what a carriage-style garage door is, describe different types of carriage-style garage doors, and speak about their prices. You will learn about the advantages and disadvantages of such doors and understand if you need them.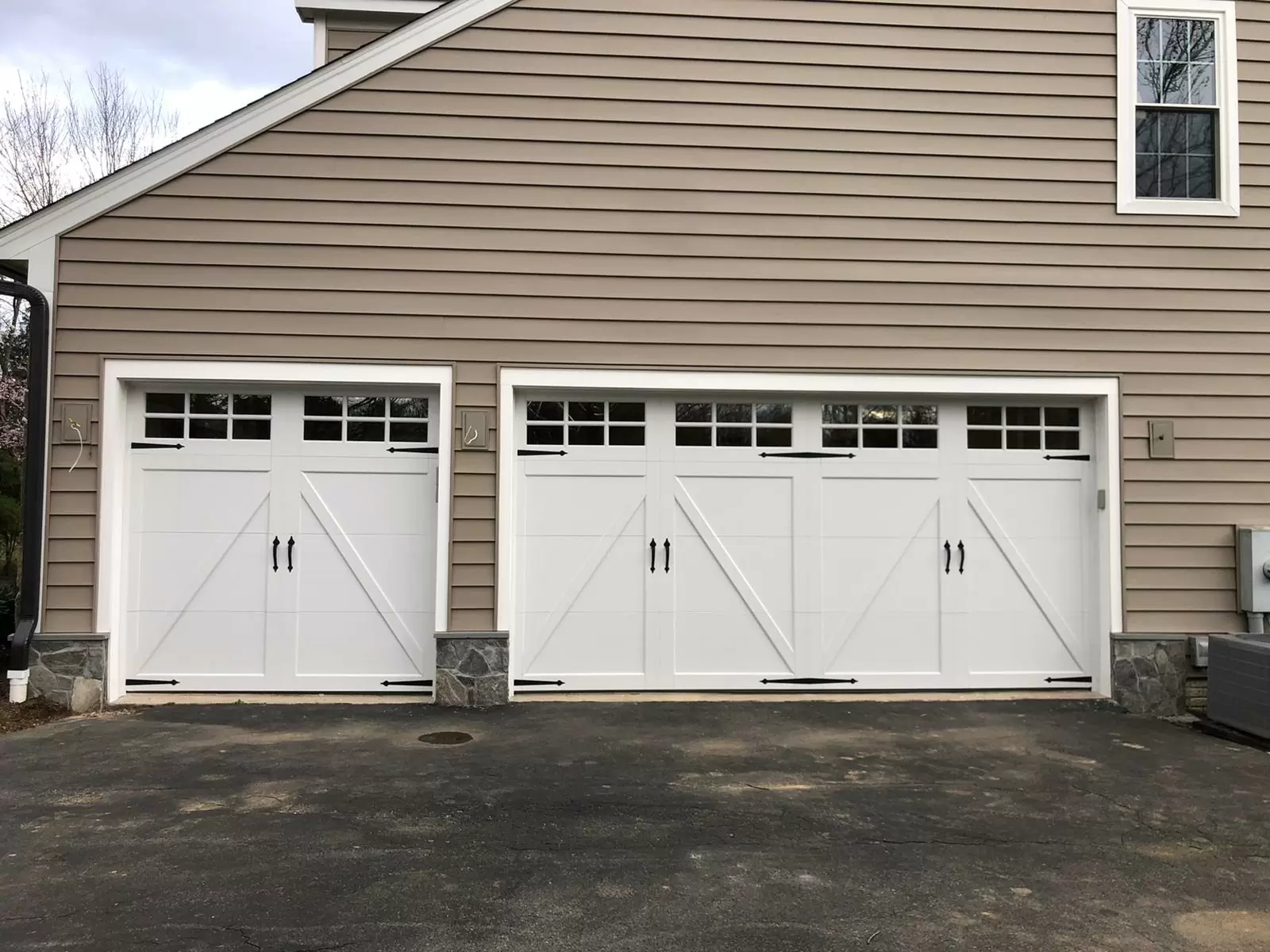 Construction of a Carriage-Style Garage Door
24/7 Emergency
Garage Door Service
A carriage-style garage door is a type of garage door designed to imitate the look of a barn-style door. The most traditional carriage-style garage doors have four panels with decorative hardware, hinges, and handles that recreate the look of an entry for a horse-drawn carriage. These panels are usually made from wood, steel, aluminum, or other materials, and can come in a variety of colors. You can find carriage-style garage doors with windows, but this feature is optional.
Modern carriage-style garage doors have the same automatic opening and closing system as regular doors. So you don't have to pull them open like the old doors.
Below, we will write about the two most common materials for a carriage garage door, wood and steel, describing their benefits and disadvantages.
Wood Carriage House Garage Doors
Wood carriage house garage doors will be not only a protection for your garage, but also an aesthetic addition to the exterior of your home. Such a door will help create a classic and elegant design for your garage. If you are a lover of old-fashioned style, then swing out carriage garage doors made of wood are exactly what you need.
Nowadays, you can create your own custom style for a door, choosing size, decorations or additional elements, such as handles or windows, and different types of wood. For instance, cedar, mahogany, and oak are usually used for carriage wood garage doors.
Such doors have excellent insulating properties, allowing you to save money on heating bills, and they are very durable and can last you for many years. In order to avoid splitting and fading, wooden doors are painted with a protective finish. Thus, humidity does not spoil the material from which the door is made.
You can opt for carriage-style garage doors with no windows if you want to reduce spending during installation or If you don't spend much time in the garage. However, with the natural light in the garage during the day, you will pay less for garage lighting.
Such a door has almost no disadvantages. But still, we want to draw your attention to the following points:
High price. Wood garage doors carriage style price is, on average, twice as high as steel ones ($1,500-$2,500 for a single door).
Maintenance. Wood garage doors require more maintenance than other materials such as steel or aluminum, as they need to be repainted or stained regularly to protect against humidity, sun fading, and general wear and tear.
Wood carriage house garage doors combine modern technology with classic design. Such a door will greatly increase the value of your home and will delight all residents and guests with its attractive appearance every day.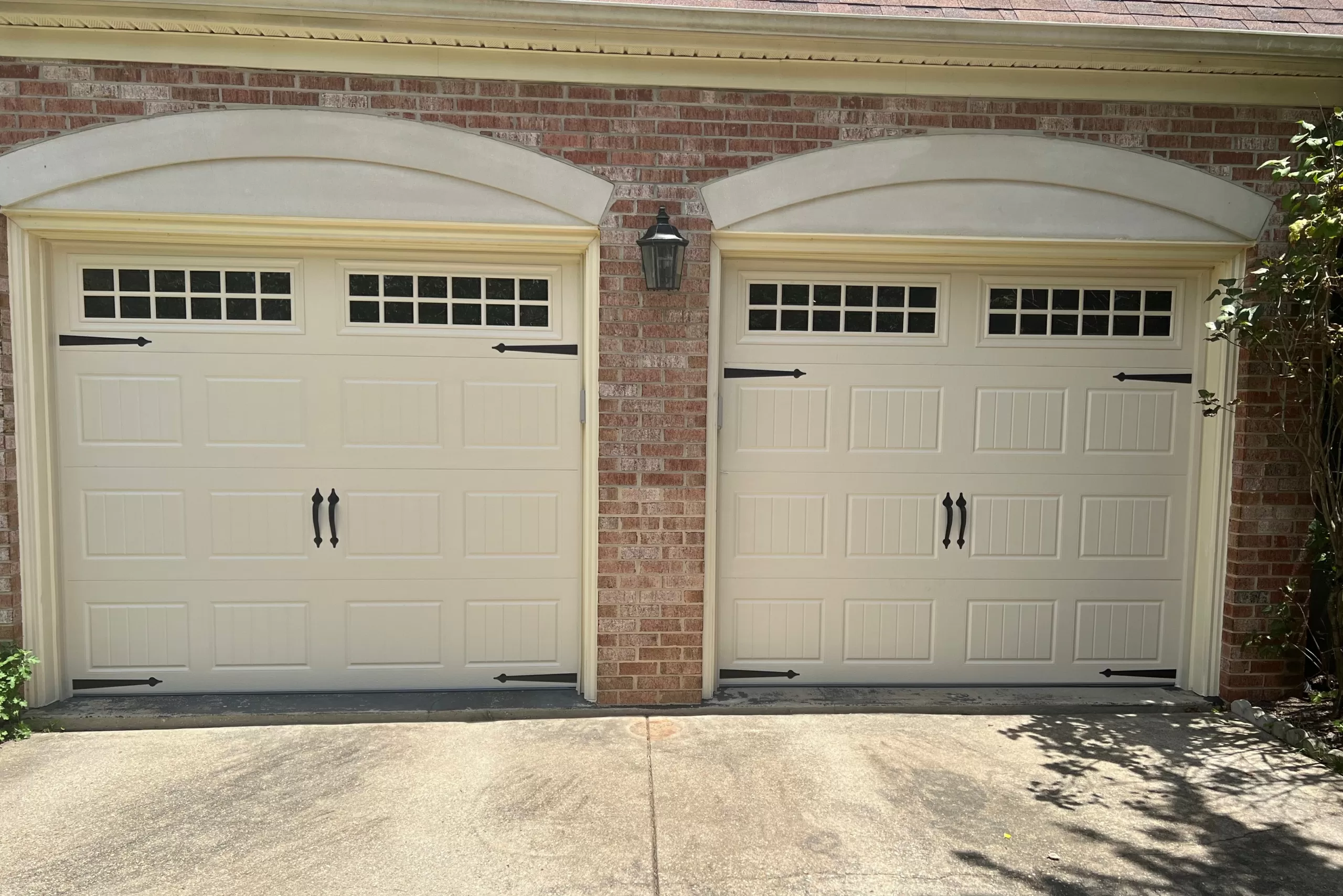 Steel Carriage House Garage Doors
24/7 Emergency
Garage Door Service
Just like a wooden one, a steel carriage house garage door completely replicates the carriage house doors that were used more than a century ago. But thanks to their material and modern technology, they are much more practical, and the cost of carriage-style garage doors from steel is much lower than those from wood.
There are various styles and designs available, including panel designs, decorative hardware options, wood grain finishes, and more. All of these features can be customized to match your existing interior decor or create a brand-new look for your garage.
At the same time, a steel carriage-style garage door is not only visually appealing but also very durable, thanks to a baked-on powder coat finish on the steel panels. This type of door utilizes an overhead track system that opens and closes the door in a safe, reliable way.
Steel carriage house garage doors also offer many advantages in terms of security, energy efficiency, and noise reduction. They are more difficult to break than doors made of other materials, and the tight seals help reduce drafts and improve insulation. It is a strong and reliable construction, but do not forget about maintenance. In order to avoid rusting, it is necessary to carry out regular minor repairs and lubricate moving parts.
The main disadvantage of steel doors is their noise during opening and closing. So it might not be the best option for those who want a quiet environment.
A steel garage door, just like a wooden one, has its advantages and disadvantages. When choosing the perfect fit, pay attention to the characteristics that are particularly important to you.
Conclusion
Carriage doors for garages are an attractive and cost-effective way to add a touch of curb appeal and character to your home. They offer a unique look that combines the best of both worlds, adding the classic style of a traditional carriage house door with modern-day convenience and durability. With various customization options, carriage house-style garage doors are sure to bring a unique, timeless look to your home.
Consider STI Garage Door as Your Trusted Partner
24/7 Emergency
Garage Door Service
Whether you choose a steel or wood carriage-style garage door, it will grace your home for many years and protect your vehicle or your stuff from theft, damage, and adverse weather conditions.
In order for a garage door to perform its basic functions, look stylish and not pose a danger to residents and house guests, it must be properly installed. You should not undertake such a complicated job yourself and trust this task to professionals!
Our company, STI Garage Door, has been providing various services to garage owners for many years. You can contact us for such services as:
Why should you trust us? When you use our company's services, you get the following benefits:
Quickness. You can leave us a request 24/7, and our employee will contact you ASAP to resolve any problem with your garage door.
Accessibility. We have offices in many US states and can help you no matter where you live.
Quality. We take every task seriously and want our customers to always be satisfied with the result.
If you need a carriage-style garage door installed, carry out minor repairs, or replace some details, don't put this task off. Call us, or leave a request on our website. We will contact you and make an appointment.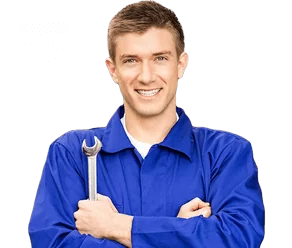 Spring Replacement
$25.00 off
Not valid with any other discounts offer!
Opener Repair
$15.00 off
Not valid with any other discounts offer!
New Garage Door
$100 off Single Door
$150 off Double Door
Not valid with any other discounts offer!
New Garage Door Opener
$50.00 off
Not valid with any other discounts offer!
Senior and Military
Extra 5% off
Not valid with any other discounts offer!
Tune-Up Special
$85.00 off
Not valid with any other discounts offer!
Show More +