Garages are usually well-protected from floodwaters, rains, and other bad weather conditions. Yet, garage doors are regarded as the weakest part of the garage. They are prone to physical impacts and floodwaters in the first place.
As of 2021, 14% of all residential property and 20% of all commercial property in the US are at risk of flood. Probably, you've already faced the issue and your main focus is on stopping flood water from coming under the garage door. Alternatively, you may be just planning to build a garage and need to protect it properly. Let's learn more about garage door protection.
When You Need Flood Protection for Your Garage Door
24/7 Emergency
Garage Door Service
Probably, there is no region on Earth where rains never occur. But those living in the regions with an increased risk of floods should definitely be aware of how to protect garage door from flooding:
Louisiana. About 50.5% of the state's area lies within the Special Flood Hazard Area (SFHA). It means that every second garage owner is at extreme risk of facing the floodwater ruining their property.
Florida. In terms of floodwater risk, this state is the second after Florida, with 40.8% of the area lying within SFHA. It's explained by its nearness to the seaside.
Maryland. More than 19% of the state's area lies within SFHA. Garage door repair services in Maryland are highly requested, especially after the winter.
Virginia. Norfolk is particularly the most endangered region. The city is about 120 square miles of low-lying land, making garage door repair and installation services in Virginia of high popularity here.
South Carolina. In 1989 the Hugo hurricane caused floodwater issues that almost ruined three-quarters of homes in this district.
Now, let's proceed with learning how to keep the garage from flooding.
Tips to Protect Your Garage Door from Flooding
From a certain perspective, the set of preventive measures is a plan to perform, similar to this garage door safety checklist. Let's find out what steps you should take to minimize the risks of water coming in under the garage door.
Tip #1: Seal Leaks and Cracks
Probably, this is the easiest way to prevent flood water from coming under the garage door. Examine the walls, roof, and floor of the garage for cracks and leaks which may be the cause of flood inside the garage. Use a flashlight and take your time to detect all possible damage.
If you found a crack on the floor, remove pieces of debris from it. Then, use a cleanser to remove the remains and vacuum the crack. After that, cut the nozzle off the bottle of filler and fill in the crack. Remove excess liquid with a towel and let it dry overnight.
Cracks in walls can be approached similarly. You can use a silicone sealant or epoxy glues to "patch up" the cracks. Deal with the ceiling cracks in the same way.
As for cracks in drywall, you should use a scraper to widen the crack and place drywall tape over it. Apply a joint or drywall compound and push through the crack. Smooth over with a sponge. Then just sand, prime, and simply paint it over.
Tip #2: Check the Integrity of Your Garage Door
Proceed with examining your garage door. Holes or gaps in it might appear over time and lead to flooding. Try to find all the noticeable cracks and gaps and determine if weatherstripping needs replacing.
Here's what you may do to repair the door if you have found a hole:
Turn off the opener of the garage door.
Use sandpaper to smooth the inner surfaces of the hole.
Fill the hole with foam insulation.
Use a wooden paint stick to smooth the foam.
Use sandpaper to polish the foam until it is even from both sides of the garage door.
Paint over the hole, so it matches the garage door's color.
As for additional protection, you should purchase a weatherstripping kit and install it.
Tip #3: Replace Garage Door
Perhaps it's a quite radical solution, but there are cases when it's impossible to go without the complete replacement. For example, if in the previous step you found that the door is worn out, or panels are rusted or badly dented, it's likely that repairment procedures would not be worth it.
In case you've recently purchased a door and need to give it good corrosion protection, consider applying sufficient paint on it. Follow these steps to perform painting successfully:
Remove dust, rust, or chipped paint (if you are processing an old door) and sand the entire surface.
Clean the surface with an all-purpose cleaner.
Spray it with a hose.
Dry with towels and leave for about an hour.
Tape off locks, handles, windows, if there are any, and trim.
Turn off the opener and lift the door to a comfortable height manually.
Apply a primer from the bottom to top and from the inner to outer panels and leave for about 12 hours.
Apply paint.
Applying paint is a great way to give the door another layer of floodwater protection.
Tip #4: Install the Proper Drainage System and Maintain Your Gutters
Gutters are what keep water from getting inside our garage in the first place. Make sure they are clean and in proper condition. Cleanse them with water, and replace old gutters, if necessary.
As for the drainage system, it serves as an additional way of preventing flooding. The French drain is a reliable system that would save your garage if gutters overflow. Here's the way to install it:
Locate a safe area for the drainage.
Dig a six-inch wide trench leading to a safe location.
Add three inches of gravel to the bottom and cover the trench with landscape fabric.
Place a drain pipe on the bottom of the trench.
Fill the trench with sand.
Cover the trench with gravel and landscape fabric.
Fill the trench with salt.
Place stones around the drain pipe's opening.
A proper French drain may stop water under the garage door without extra expenses.
Tip #5: Store Items Strategically
If you store items that are not water-resistant enough, be sure to keep water as far from them as possible. Firstly, you may use plastic containers and duct tape. Secondly, try to raise furniture on concrete blocks and cover items with plastic. Finally, move paper documents to a higher floor of the house, or use a ramp to elevate your items.
Contact us should you need to prevent the garage door from flooding or any other work to be executed.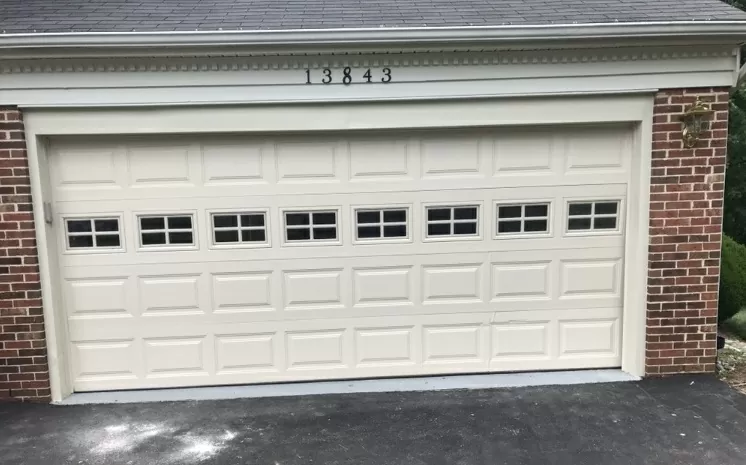 Advice for Preventing Rainwater From Running Under Your Garage Door
It's not enough just to know how to stop garage doors flooding. Probably, your property is at a higher risk of rainwater coming into the garage. This issue needs the implementation of all the above-detailed measures. Besides, consider following this additional advice on how to keep water out of the garage:
Replace the Floor Seals
There is a flexible seal on the bottom of every garage door. It extends from one side of the door to the other. It ensures that the door openings are tightly pressed to the floor when fully lowered to the ground. This seal is what prevents dirt, rain, and snow from getting inside the garage.
These seals must be replaced with some frequency, which is usually specified by their supplier. Tape stripping slowly pulls off from the door, and rubber becomes brittle in a single season. Replacing both the door and floor seals is a relatively inexpensive repair that you should do annually.
Use Sandbags
Another way to stop low-level flooding is to use sandbags. They do not seal the area, but help to redirect floodwater away from your property. It helps to prevent serious damage in case of sudden floodwater. Line sandbags by creating a pyramid-shaped barrier. Do not set sandbags around the garage to not cause a water trap.
Revise your Landscaping
There are some ways in which you can modify your garden to reduce the impact of rainwater:
Create a swale to redirect water. Line the lowest points with rocks and place plants on the slopes.
Create a rain garden by placing plants with high tolerance to wet soil.
Use a heavy mulch that won't float away. Place the fabric under the gravel to make it difficult to remove.
Place a rain barrel under a downspout.
The interventions taken in the designing stage impact garage door protection the most.
Final Thoughts
24/7 Emergency
Garage Door Service
STI Garage Door is a US-based provider of garage door flooding solutions. Small to large-sized businesses as well as individual customers entrust their projects to us. We've been on the market for years, solving cases of any complexity and ensuring the best customer experience for our partners.
We perform all types of work over garage doors. Some service lines you can request from us are:
Besides, you can always order installation, replacement, repair, or insulation of your garage property. We work 24/7, so you can request emergency garage door services whenever there's an urgency.
Contact us should you need flood protection for garage doors or any other work to be done.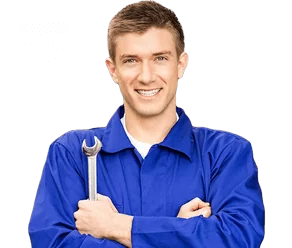 Spring Replacement
$25.00 off
Not valid with any other discounts offer!
Opener Repair
$15.00 off
Not valid with any other discounts offer!
New Garage Door
$100 off Single Door
$150 off Double Door
Not valid with any other discounts offer!
New Garage Door Opener
$50.00 off
Not valid with any other discounts offer!
Senior and Military
Extra 5% off
Not valid with any other discounts offer!
Tune-Up Special
$85.00 off
Not valid with any other discounts offer!
Show More +