Although standard residential garage door sizes are common knowledge in hardware stores, the exact sizing of your actual requirements will need some analysis. The recent trend points to people using garage space for activities other than just parking vehicles, so more and more homeowners choose to have a larger garage.
55% of Americans spend 1 to 2 hours each week doing hobbies and home improvement activities inside their garage.
If you are in the market for a new garage door or upgrading an existing one, this garage door size chart should be able to help you figure out the proper door size for your garage to fit your vehicle and requirements.
Major Factors For Determining the Size of a Garage Door
24/7 Emergency
Garage Door Service
To start, it's important to highlight the factors that have the maximum effect in determining the size of a garage door. Below are the four major factors to consider when planning and designing your garage.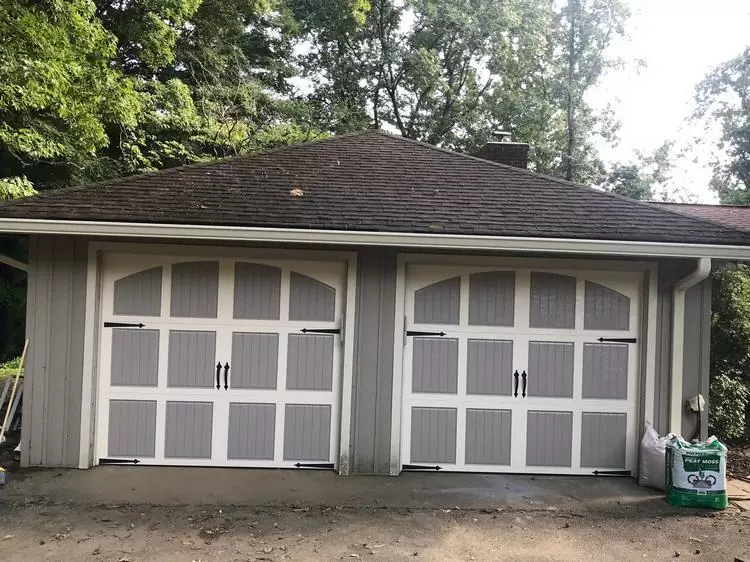 Type and size of the vehicle
The garage door dimensions should be enough to accommodate your vehicle type and tall enough to fit any rooftop accessories like roof racks and cargo holders. Below are the average garage door sizes of each type of vehicle.
Sedans and cars. The typical vehicle for the average homeowner. Sedans are 6–6.5 feet wide and 16–18 feet long. The average height of sedans is 4.5–5 feet, but take note of luxury cars that have larger wheels and higher ground clearance.
Sports utility vehicles, all utility vehicles, and vans. The largest vehicle a typical family can own. Most will be 6–7 feet wide and 16–19 feet long. Height will vary between 5–6 feet, but many owners opt to place a roof storage utility accessory, which can add at least up to 2 feet in height.
Sports and compact cars. Smaller than sedans, measuring about 5–6 feet wide and 14–16 feet long. Height is usually about 5 feet, with some luxury sports cars measuring just 4 feet or lower. These cars have no problems with small garage door sizes.
Boats. This covers only the water sport or inshore fishing-type boats that can be transported on land via trailer. The typical width is 8–10 feet and a length of 25–30 feet. Anything bigger might be hard to transport and usually remains water-bound in a yard. These boats have a height of 10–12 feet, but if a trailer is used, an additional 2 feet should be considered.
RVs and mobile homes. Sizes vary per manufacturer, but standard models are around 30–35 feet long, about 9 feet wide, and 12–13 feet tall. These vehicles would need large garage door sizes comparable to commercial ones.
The number of vehicles
Aside from the space occupied by each vehicle, there should be at least 2 feet of space between each vehicle when parked side-by-side. This is to accommodate car door openings when going in or out of the automobile.
Additional space
Most owners will take advantage of the extra garage space to store garden tools, lawnmowers, and even golf cars. Some owners even have work tables for personal activities. The garage door should be wide enough to allow activities or moving in and out of items without moving your vehicle.
Garage size
If you bought a house with a garage, you would be limited to the size of the garage entrance. Take note of the space required for garage motors and overhead door compartments. For new garages, it's better to involve an expert or your architect during planning to consider all your requirements.
Use these factors to estimate your current requirement, and if you have plans for additional vehicle purchases, better to factor those in before purchasing your garage door.
Size Selection For Garage Doors
Now is the time to consider how to properly determine the size of the garage door for various cases. This process is quite simple, but there are some pitfalls.
Building or remodeling a garage
If you're looking to redesign your garage or make a new one, we suggest using 9-feet-wide and 7-feet-high garage doors. This is the standard size that is used and fits most cars. However, if you have a large car or truck, this space will not be enough to drive in and out of the garage freely.
If you have such a means of transportation, we advise you to increase the opening. In most cases, 8-feet-high and 10-feet-wide will suffice. But, you should first determine the dimensions of the car that you will leave in your garage. Then it will be possible to use these measurements. Of course, the height of the garage itself and its width should be greater so that you can freely exit the car after leaving it in the garage.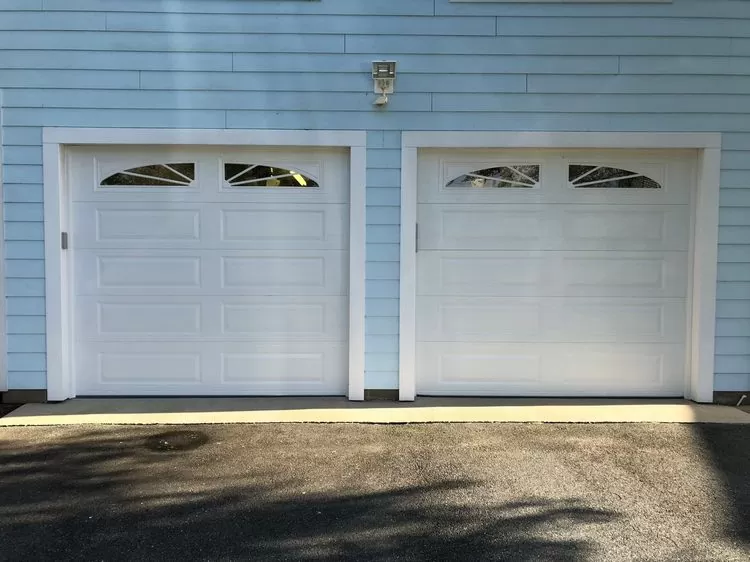 Garage door replacement
If you already have your garage and just want to replace your outdated garage doors, it will be much easier to get proper measurements. To obtain reliable information, it will be enough to calculate the width and height of existing garage doors and come to the store with these dimensions. So, you will know exactly which option will be the most suitable in your case.
By the way, for the installation of garage doors we advise you to contact our company. We provide installation and replacement services at any time. If you want to get a truly high-quality service from experienced professionals and do not want to waste your time on installation, you can always discuss the details with us using the contacts listed on the site.
Resizing garage doors
If you are not satisfied with the standard garage door rough opening sizes, you can always change the proportions. It will be easy to reduce them, but increasing the size when buying a new large-sized car can take more than one day and a lot of effort. In most cases, to complete this project, you will need to rebuild the garage, and sometimes even this approach will be cheaper and faster than redesigning the old one.
Moreover, if you simply increase the size of the garage doors and the dimensions of the garage itself remain the same, you will not always get the desired effect. At a minimum, it will be very challenging to get out of the garage after driving inside. At the same time, it will be simply impossible to leave space for tools and ordinary garage items in this case. At the very least, you're just wasting your time. Because if your car passes through the door, this does not mean that the garage itself is suitable for storing it.
So, if you are going to increase the garage opening, you need to consider the above factors. It is worth starting from the size of the new car and the amount of space for tools, and a convenient exit from the garage.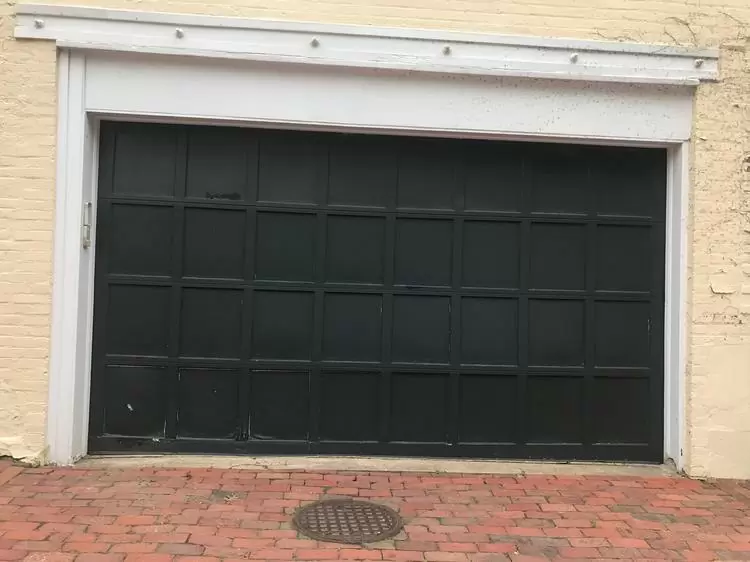 Standard Garage Door Sizes
24/7 Emergency
Garage Door Service
Evaluate your current and future requirements to gauge the size of your garage door properly. Below are typical garage door sizes based on function, the number, and the type of vehicles. These are standard for overhead and roll-up garage door sizes and should be readily available for purchase from any garage door supplier.
Single-car garage door size
For homeowners with just one automobile, a single garage door should cover their requirements. Single common garage door sizes range between 8–10 feet wide and between 7–8 feet in height. Standard "off the shelf" doors are available in 8 feet x 7 feet, 9 feet x 7 feet, and 10 feet x 7 feet, with a taller 8-foot variety available. Single garage door sizes should be wide enough to accommodate any car type and still have enough space for storage.
Homeowners with two vehicles can opt to build a garage with two bays or garage openings and have two standard single garage door sizes installed.
Double-car garage door size
A double-car garage door is one door unit that is big enough to accommodate two cars. Some homeowners with just one vehicle opt for oversized garage door sizes to have space for cabinets, garden tools, and a workshed. Double garage door sizes are usually 12–18 feet in width and 7–8 feet in height.
Triple-car garage door size
This monster-size garage door can comfortably fit three vehicles and be an economical and aesthetically better option instead of installing three separate single garage doors. Although the downside is you expose all the parked vehicles whenever you open the garage door. The standard size of a triple-car garage door is 36–40 feet wide and 8 feet in height.
RV-size garage door
RVs and mobile homes have a considerable height difference compared to cars and vans, with most models measuring up to 13 feet high. Standard RV garage door sizes are 12–14 feet wide and 14–16 feet high.
The width of RVs and mobile homes also makes it necessary to have a wider area for better maneuverability.
Commercial-size garage door
Commercial size garage doors are made to accommodate large containers and trucks. The standard commercial garage door size is 32 feet wide and 24 feet high. Check if this is enough for your vehicles or the items to be stored. Due to the commercial-grade construction, these doors are thicker and more robust than residential garage doors.
Boat-size garage door size
Garages for small boats are usually customized as they differ in size depending on the type and model. These will have higher openings than car garages and may be comparable in dimensions to a commercial size garage door.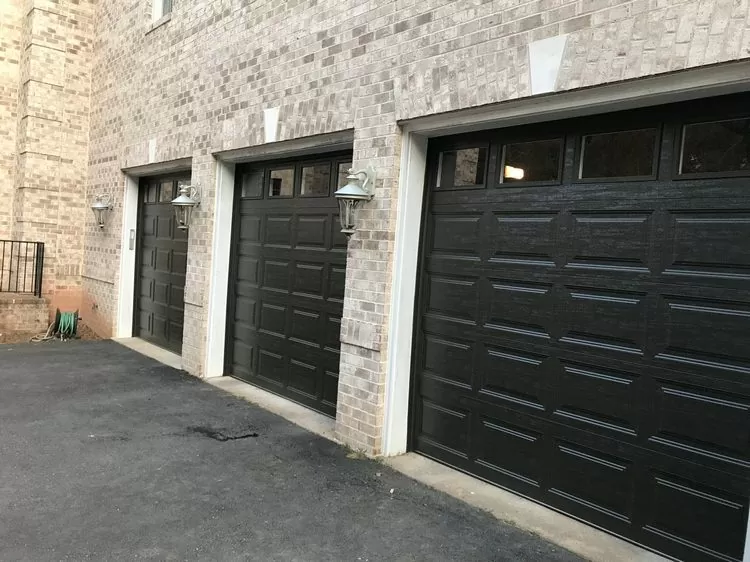 Overhead Door Size Limitations
Although you can have any size of garage door, below are limitations that can affect or restrict the design of your garage door. This can be either monetary, design limitations, or regulatory.
Higher cost of customization
Garage doors are available in many sizes, but in case your requirement does not fit these ready-made models, then customization is your only option. Unfortunately, the garage door installation cost for custom doors will be higher due to measurements, custom cutting, bigger garage door rollers sizes, and installation. This is normally encountered by homeowners adding a new garage or upgrading an open garage.
Door & Access Systems Manufacturers Association (DASMA) regulations
DASMA is a trade association for North American garage door manufacturers. DASMA members represent 95% of the garage door industry, making them the premier regulatory group for this niche. Their publications regarding overhead door specifications have entries that identify standards for garage door standard sizes, wind loads, durability, hoist operation, torsion springs, and counterbalance.
U.S. Consumer Product Safety Commission
The commission has various regulations covering residential garage owners and garage door operators (GDO). The aim is to protect the public from harm if they own or are near garage doors. One such regulation focuses on safety measures to deter accidental entrapment. Another one focuses on regulating overhead garage door opening and closing speed. These and other regulations will directly affect residential garage door sizes.
Current size of the garage
Quite simply, the size of your new garage door should not exceed your current garage door allocation. An expert can help identify the maximum door size to fit your existing garage. Otherwise, major reconstruction is needed to extend the garage wall and create more space.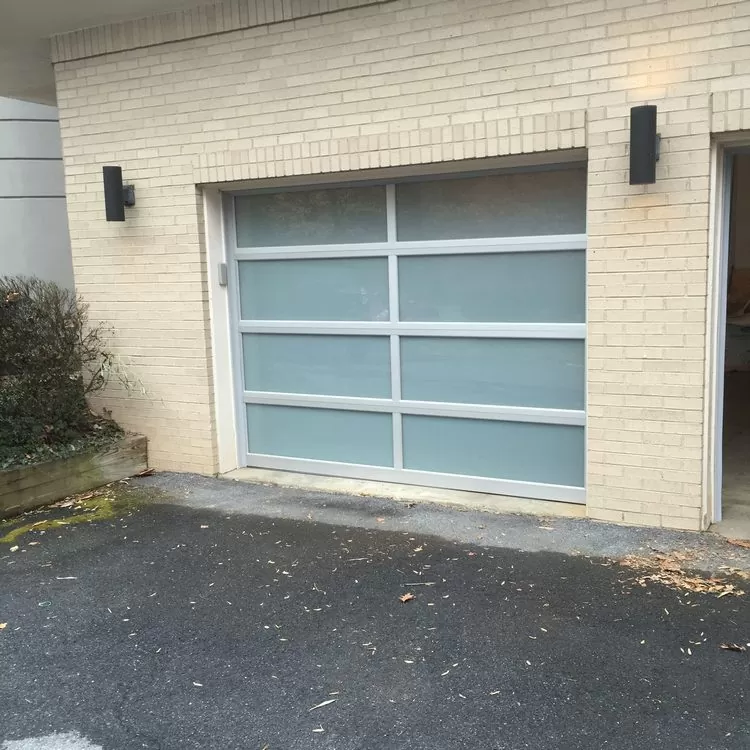 What Size Should My Garage Door Be?
It's almost inconceivable for homeowners not to have a garage or at least a carport. There's a certain feeling of security in having your car safe and stowed away in a garage, protected from harm. A garage can also increase the value of your property and create a new space for your hobbies or side projects.
If you are considering a new garage door, the pointers discussed here should be a valuable tool for identifying the size of your garage door. Note that it is often better to overestimate than underestimate the garage door size, as it is easier to live with an oversized door than an inadequate one. It is also far easier to reduce a garage than enlarge it to create more room.
But you should also be reasonable when adding new space as you might not use it. A recent study showed that 25% of Americans who installed standard two-car garage door sizes don't actually park two cars, with most just parking one car. The extra space just becomes storage space and is filled with clutter.
Garage door sizing is a science, and we are proud to say STI Garage Door is one of the best in the business. We have years of experience in residential and commercial garage door installation, repair, and design. With all our years of working in this industry, we are honored to say that our clients from Maryland, Virginia, and Washington, DC, have only positive things to say about our service.
If you are looking for a reliable, honest, and reputable garage door specialist, we would love to be of service. Give us a call! Our professional garage door experts are standing by 24/7 to help you out!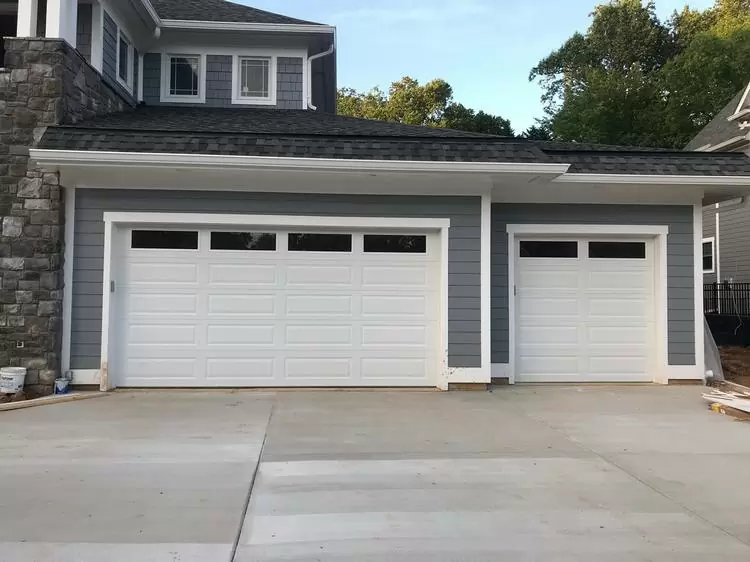 Let an STI Garage Door Specialist Help You With New Garage Door Installation Today
24/7 Emergency
Garage Door Service
We have been providing cost-effective, high-quality commercial and residential garage door installation, rebuild, and repair services for many years. We are also experts in garage door opener installation and maintenance and provide the best price for custom garage door installation.
You can count on us when you have any problems related to opening, improper operation, or previous poor-quality installation of doors.
We also provide emergency garage door installation and repair services 24/7. You can contact us at any time and in any convenient way using the contacts that are on our website.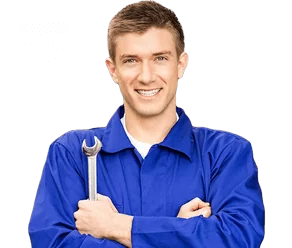 Spring Replacement
$25.00 off
Not valid with any other discounts offer!
Opener Repair
$15.00 off
Not valid with any other discounts offer!
New Garage Door
$100 off Single Door
$150 off Double Door
Not valid with any other discounts offer!
New Garage Door Opener
$50.00 off
Not valid with any other discounts offer!
Senior and Military
Extra 5% off
Not valid with any other discounts offer!
Tune-Up Special
$85.00 off
Not valid with any other discounts offer!
Show More +